Community Helpers Week In K3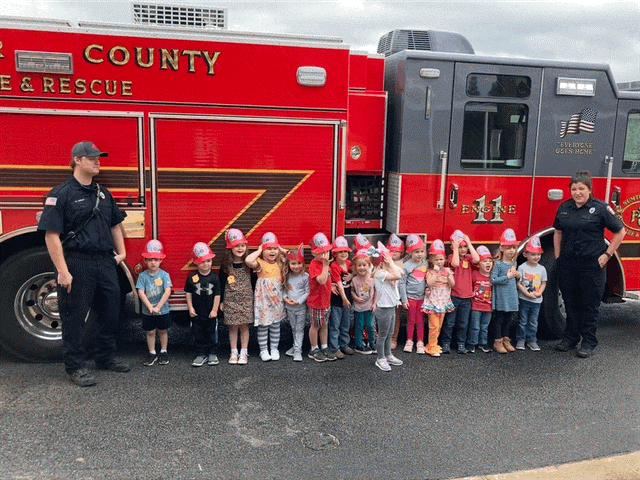 ---
The Southland Academy K3 students have been very excited about their study of Community Helpers. The K3 teachers, Kelley Stapleton and Lori Bell have conducted lessons and demonstrations to help the students understand what a community helper is and offers our citizens. The students enjoyed asking the visitors serious and some humorous questions while learning about the roles of spiritual, agricultural, medical, and leaders and first responders.
Mr. Ellis Coffee gave the K3 students glow in the dark bracelets to demonstrate being a "bright light" to lead others to Christ. He used the bracelets to show the students that everyone, even students, can help lead others to Christ.
The K3 Raiders were amazed by the many sounds, tools, and hoses on the fire truck. The fire fighters talked about safety and having a designated safe place to meet your family in case of an emergency. They also showed them the necessary equipment, However, the most special to the Little Raiders was the fire truck siren! Southland Academy appreciates Sumter County Fire and Rescue.
Georgia Southwestern State University nursing student, Olivia Payne, visited the Southland Academy K3 students during Community Helpers week. Ms. Payne explained the role of nurses and how they help others. She also demonstrated on one of the K3 students how to wrap a person's "broken wrist." The students were excited to use the stethoscope, and Ms. Payne helped the students make their own stethoscopes with cups and balloons, Giggles and smiles were abundant as the K3 Raiders listened to each other's heart beats with their very own "stethoscopes." The students particularly enjoyed the lollipops that Ms. Payne gave them for being super "patients." Southland Academy was very proud to welcome Olivia who is a 2016 Southland Academy graduate back to campus.