Southland Academy Cheerleaders Win Awards at Summer Camp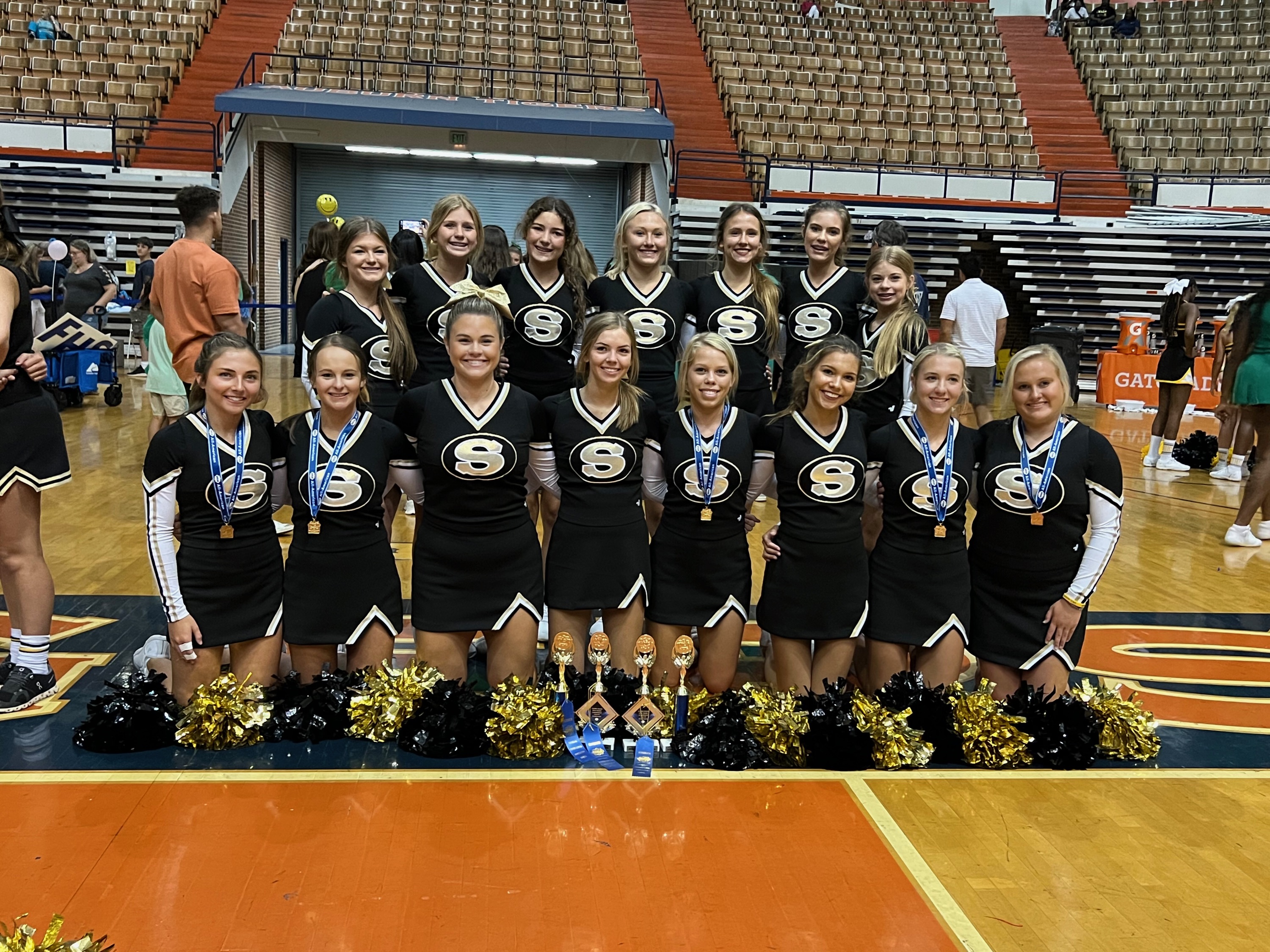 ---
The Southland Academy Varsity and Junior Varsity Cheerleading squads recently continued the tradition of capturing awards at Universal Cheerleading Association (UCA) Summer Camp held at Auburn University in Auburn, Alabama. UCA is the oldest and largest cheerleading association in the world, and its goal is to inspire leadership on and off the field by providing high quality educational training for college, high school, and middle school cheerleaders.
Southland cheerleaders competed with other cheer squads totaling about 400 girls and boys from across the entire states of Alabama, Georgia, and Florida. The team participated in 3 days of learning new cheers, chants, dances, pyramids, and stunts. Final competition took place on the 4th day.
The Varsity squad secured a Superior Trophy for their overall performance at camp on the Large Varsity level. They placed 3rd in Cheer and 4th in Sideline Chant and Dance.
There were also individual awards throughout the week. Senior Adaline Miles made it the 4th round of the Jump-Off. Also participating in the Jump-Off at the High School Level were Seniors Ansley Goolsby and Audrey Walker and Junior Wimberly Hines. Freshman Reeves Young also made it to the 3rd round of the Dance-Off. Southland had 5 girls named as All Americans: Seniors Ansley Goolsby, Adaline Miles, Mia Mixon, Kate Pritchett, & Audrey Walker.
In addition, Senior Audrey Walker received the prestigious Pin-It-Forward Award. Pin-It-Forward Awards are for outstanding positive mental attitudes and leadership throughout the entire 4-day camp.
The Southland Varsity squad members are Seniors: Camie Cochran, Kylee Ann Crawford, Ansley Goolsby, Julia Clare Hubbard, Adaline Miles, Mia Mixon, Kate Pritchett, & Audrey Walker; Juniors: Wimberly Hines, McGraw Minor, & Medley Walker; Sophomore Amelia Kinnebrew; and Freshmen: Virginia Lanier, Madge McCranie, & Reeves Young. Mrs. Susan Welch is the long-time Varsity Cheerleading Coach and Advisor. Mrs. Welch also attended the camp and participated in a coaches' workshop for cheerleading stunt techniques and safety. Mrs. Welch is assisted by Mrs. Dannie Collier who also attended the 4-camp.